What's New...
One on One: A Voice Clinic
Sunday, November 28, 2021 by Gimbey dela Cruz | Webinar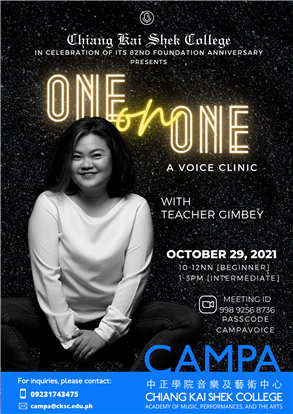 presented by
CAMPA
We were fortunate to conduct "One on One," a voice clinic to teach our fellow CKSians about singing techniques and how to get the best performance out of each singer.
This voice clinic was divided into two categories: beginners and intermediate levels. Beginners were those who had little or no experience competing in singing competitions, while intermediates were winners of the "Amazing Voices of CKSC."
here are the YouTube Links if you wish to watch the masterclass
Beginner :
https://youtu.be/YSQlSvw1NMw
Intermediate :
https://youtu.be/HYk7gankKKc